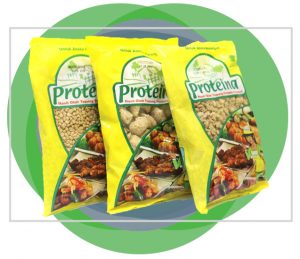 Benefits of Proteina
Proteins are a source of processed vegetable protein from flour derived from NON-GMO (Genetically Modified Organism) nuts that have been separated from their oil content
Protein has a high nutritional content, with levels of Protein 47% - 50% per 100 grams of product.
Proteina is a substitute for healthy animal protein and more economical for you and your family.
Proteina can be served in a variety of high-protein delicacies.
Proteina is available in the form of chunks, chops, and slices, making it easy to process into various types of cuisine, such as: rollade, nuggets, meatballs, sausages, martabak, etc.
Proteina is a source of vegetable protein which can be used as one of cost savings factor in meat-based food processing.
PRODUCT STANDARD
PROTEINA : Vegetable proteins that are processed from soy flour, with a meat-like texture.